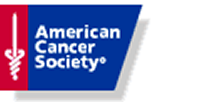 About the Organization:
ACS Mission:
The American Cancer Society is the nationwide community- based voluntary health organization dedicated to eliminating cancer as a major health problem by preventing cancer, saving lives, and diminishing suffering from cancer, through research, education, advocacy, and service.
International Mission:
The American Cancer Society's international mission concentrates on capacity building in developing cancer societies and on collaboration with other cancer- related organizations throughout the world in carrying out the strategic directions of the American Cancer Society.
Contact Info:
News and Events:
Weight Training Benefits Prostate Cancer Patients
Weight training relieves fatigue from treatments.
Exercise for Adults and the Elderly
News release on new recommendations about a well-rounded exercise program.
Resources on Aging and Physical Activity:
Active for Life Employee Wellness Program
This 10-week program encourages employees to be more active on a regular basis by setting individual goals and forming teams for motivation and support.
The Complete Guide to Nutrition and Physical Activity
Staying Active: Articles and Web Tools