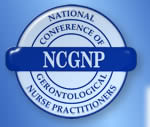 About the Organization:
NCGNP was founded in 1981 by a small group of GNPs with the intention of offering the first continuing education conferences designed specifically to meet the needs of GNPs. Currently, NCGNP represents nearly 3,500 certified GNPs in the country and a multitude of family and adult NPs in geriatric practice. NCGNP has become the organization of choice for NPs who want to pursue continuing education in geriatric care and who seek peer support from experienced clinicians.
What is a GNP?
A GNP is a registered nurse with a master's degree from a nurse practitioner program specializing in the care of older adults. GNPs are educated to diagnose and manage acute and chronic diseases, taking a holistic approach to meet the medical, psychosocial and functional needs of older persons. In most states GNPs can prescribe medications. GNPs are board certified through the American Nurses Credentialing Center. Nearly 50% of GNPs have nursing facility practices managing complex care of frail older adults in collaboration with the interdisciplinary team. GNPs also serve in geriatric and family practice clinics, long term care, hospitals, home health care agencies, acute and sub acute rehabilitation, continuing care retirement communities, hospice, managed care organizations, specialty care clinics (Alzheimer's, Diabetes, etc.), area agencies on aging, public health departments, schools of nursing and private practice.
Organizational Goals:
The goals of the National Conference of Gerontological Nurse Practitioners are to:
Advocate quality care for older adults.
Promote the professional development of advanced practice nursing.
Provide continuing Gerontological education for advanced practice nurses.
Promote communication and professional collaboration among health care providers.
Support research related to the care of older adults.
Contact Info:
Website: www.ncgnp.org
Resources on Aging and Physical Activity:
Prescribing Exercise Programs for Older Adults in All Settings
Newsletter article on page four of the NCGNP Newsletter, Spring 2002 Issue, examines exercise prescriptions and how to motivate older adults to adhere to regular exercise programs.