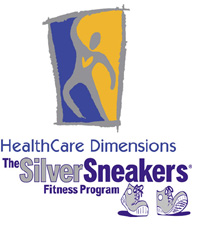 About the Organization:
Founded in 1992 by Mary K. Swanson, President and CEO, HealthCare Dimensions Incorporated is a health care services company based in Tempe, Arizona. It was founded on the premise that for managed Medicare to be viable in the long run, cost-effective, preventive benefits need to be incorporated into the care continuum. The company's SilverSneakers® Fitness Program was created to meet this need and has since evolved to become one of the leading senior exercise programs in the country.
HealthCare Dimensions' vision is to integrate quality senior fitness programming into communities through health plan and physician settings. It is documented that increasing physical activity levels in the older adult population can reduce the risk of disability and disease.
HealthCare Dimensions currently partners with 12 major health plans across the United States to deliver the SilverSneakers® Fitness Program to their Medicare-eligible members at no additional cost to the member. HealthCare Dimensions develops networks of fitness centers that include YMCAs, Jewish Community Centers, senior centers and family operated fitness centers where all older adults can benefit from quality senior fitness programming.
Components of the SilverSneakers® Fitness Program include:
A comprehensive network of senior-friendly fitness centers
Methods for reducing the barriers to exercise by addressing health concerns, safety, affordability, fear, motivation, transportation, location and accessibility
Fitness programming that appeals to all levels of fitness for seniors and focuses on improving strength, flexibility, balance and coordination, including the signature SilverSneakers® Class, SilverSplashSM aquatics class and walking programs
Social and educational programming
Certified Instructors and Senior AdvisorsSM to motivate and encourage program participation and ensure program objectives are achieved, including direct-to-physician outreach and education
Strategic marketing support such as direct-to-member enrollment and participation initiatives
Integration with the health plans' health promotion and disease management programs
Program performance measurement plan and routine reporting including health improvement and economic impact analyses
The SilverSneakers® Fitness Program has accomplished the following outcomes for health care organizations:
Health improvement with a corresponding reduction in health care utilization and costs
Differentiation and a positive message in the marketplace resulting in a strong association with member acquisition
Unprecedented member satisfaction and loyalty with a corresponding reduction in voluntary disenrollment
Ability to motivate, engage and maintain members' healthy lifestyle activities
Mission: To improve the health and well-being of everyone we touch
Contact Info:
News and Events:
Physically Active Lifestyles Can Help Prevent Fall Injuries
Studies Indicate a Change in Sedentary Behavior Reduces Health Care Costs